The team at Fairmount Library loves offering a fun, flexible Summer Reading program with innovative Summer Learning events and pick-up kits.           

Sign up today!
FCL SUMMER READING SIGN UP ​
Read books, track your child's reading online, attend programs, earn prizes & more!
Sign up:
Register your account on Beanstack!
If you're a parent, you can register yourself and your child/ren individually under your account.
Families can manage everyone's reading log, completed missions, challenges and reading lists on the parents main account!
More information: 
Sign ups begin June 1st.  All readers are welcome to join at any time! 
Log minutes from June 20th through August 19th on Beanstack, download it in the App Store or on Google Play.
Read 20 minutes per day earn a weekly prize – like mini-golf, pizza, slushies and more!
If you'd prefer, you can use this PDF to help you track the books you read
Slices of Wildcat Pizza, treats at Pete's Polar Parlor, Charlee's Ice Cream, Fairmount Glen Golf coupons, Pick-a-Prize from the prize bin, a fun craft, books!!!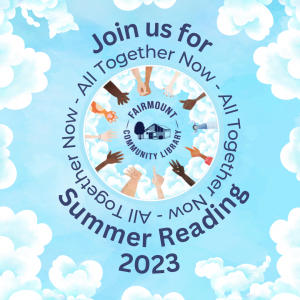 SUMMER PICK-UP KITS
Take the learning on the go!
How to join:
Register your child/ren for the FCL Summer Reading program here!
Then, register for a pick-up kit on our website.
Pick up your kit/s from FCL on the release date
Enjoy fun hands-on learning from home! 
More information:
Our learning kits are free and are available for one per family.   Registration is required as supplies are limited.
Upcoming Summer Pick-up Kits:
July 10 – Ready for Summer Fun Kit
July 17 – Sea Turtle Learning Kit / Animal Conservation
July 24 – Lavender Sensory Bin Kit 
July 31 –  Mystery Kit
UPCOMING IN-PERSON PROGRAMS – Registration opens June 30th!
Summer Reading Kickoff Event
Thursday, June 29th at 6:00 p.m. at Shove Park (Registration is Required)
Join us for the FCL's Summer Learning Kickoff! We will be at the Shove Park Pavilion with craft stations,
summer reading logs, summer learning program brochures, and hands-on activities for the whole family
to enjoy!
Book Club Kickoff Party
Tuesday, July 11th at 2:00 p.m. (Registration is Required)
Meet us at the Shove Park Pavilion to celebrate the FCL Kids Summer Book Club! We will be revealing clues on our facebook page leading up to the big reveal! We'll have snacks, drinks, crafts,
games and so much fun to kick off the summer book club! Registration opens June 29th, check our calendar for more details!
Pollinator Palooza
Wednesday, July 12th at 2:00 p.m. in Shove Park (Registration is Required)
Come to Shove Park Pavilion for a day or nature exploration and hands-on learning! Join us for this super-fun program all about bees and butterflies.
MOST presents: The Human Body
Thursday, July 13th at 6:00 p.m. in Shove Park (Registration is Required)
FCL welcomes an educator from the Museum of Science and Technology for an evening program for children ages 6-10. The presentation will be all about the systems of the human body, since they work all together to allow the human body to function.
FCL Coding Camp
Tuesday, July 18th at 7:00 p.m. (Registration is Required)
Register and attend FCL Coding Camp. Children ages 7-10 can build robots and then take them through an obstacle challenge course that they design. Snacks and drinks provided.
FCL Star Party
Tuesday, July 25th at 8:45 p.m. (Registration is Required)
Meet us outside along with leaders of the Syracuse Astronomical Society, syracuse-astro.org, and we will look at the moon and stars through their giant telescopes! Hear all about how we can observe the night sky at home in our own backyard. This program is for all ages!
STEAM Camp
Wednesday, July 26th at 10:15 a.m. in Shove Park (Registration is Required)
Calling all future makers! Meet at Shove Park Pavilion for fun and STEM learning. We will create a STEAM
toy with our bare hands! Sponsored by kidsmakethingsbetter.com. Best for kids 6-10 years.
Zoo to You
Wednesday, August 2nd at 6:00 p.m. (Virtual) (Registration is Required)
Learn what it means to be a conservationist and how our community can work together to save our planet. Join the Zoo To You crew to find out what we do to help the Earth, and how you can help, too. Meet some of our small but mighty friends who we can team up with to advocate and act for the good of our environment! Participants will be emailed the link to attend.
LIBRARY HOURS
Monday – Thursday: 11am – 7pm
Friday: 11am – 5pm
Saturday: 11am – 5pm
Call 315-487-8933
Text 315-382-8988