Donate:
If you are interested in supporting the library please consider these choices. Every dollar you donate to the library goes back to our community. We use these valuable donations for programs, materials, and resources that benefit everyone in our library community. Thank you for donating to the Fairmount Community Library.
A Gift Of…..
$15 Will buy a beloved children's picture book to be added to our children's collection
$25 Will buy a new Bestseller or an audio book for our collection
$50 Will buy a literacy toy or 5 student learning kits
$125 Will fund a program or cultural event for library patrons
Donations are tax deductible and can be made in person, online via Paypal, via mail, or by phone. The Fairmount Community Library is located at 406 Chapel Drive Syracuse, NY 13219. Please call 315-487-8933 for more information.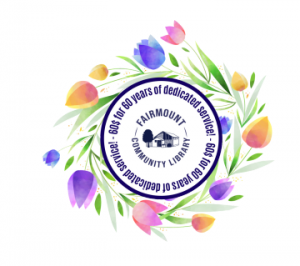 Annual Appeal
This year, we are asking patrons to donate $60 for over 60 years of dedicated service to the community.  Patrons can mail a check or donate using Paypal.
A Gift in Memory Of or a Gift in Honor Of….
If you would like to memorialize a loved one with a book or an item to add to our collection please let us know and we will work with you to choose the perfect item for you. We also accept Gifts in Honor of loved ones if you would like to name the library as the beneficiary of any gift.
A Gift from a Local Business….
If you are a locally owned business and would like to give a monetary donation, donate a gift card or item please let us know. Items such as these will be used towards prizes for patrons or incentives for our young readers. Give us a call and let us know your ideas.
 A Gift for our Special Collections….
 Did you know that we have Fun Item Rentals at the library where patrons can borrow items instead of spending time and money purchasing them? We have cake pans, jewelry making kits, hiking backpacks, family game night packs, and much more. Do you have an idea for an item that could enhance our collection? If so, stop by the library and chat with us. We could always use a new item to add to our collection.
Donate Materials….
 * We are accepting donations of books at this time. 
We will be accepting excellent condition books that are three years old or less, for our seasonal book sales.  We will accept the following items throughout the month of December 2023 for our Holiday Book & Bake Sale, Dec. 8th and 9th.
We Accept:
"Like New" books for children, teens, and adults
Gently used DVDs, CDs and Audiobooks
We Do Not Accept:
Damaged or old materials
Magazines or newspapers
Encyclopedias
Textbooks
VHS or cassette tapes
Please drop off donated items during library hours beginning May 1st, 2023.